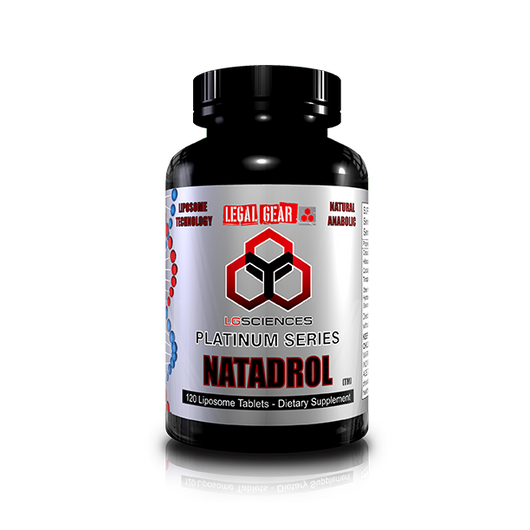 Sale
Natadrol™ contains the most advanced natural phytoandrogen and testosterone boosting agents on the market. For men and women who don't want to use prohormones or are in organizations that ban prohormones we proudly give you the finest natural alternative.
Cissus Quadrangularis is a natural mass builder and anabolic that also helps with joint repair and may even reduce cortisol. This extract is so potent, it is often used alone to increase anabolic activity.
Hibiscus Rosa-Sinesis – a natural phyto-androgen, this extract of hibiscus has been shown in rats to increase androgenic activity with zero estrogenic activity.
Curculigo orchiodes – this natural testosterone booster, will help increase natural production, which combines to help the phyto-androgens build more mass.
Tinospora cordifolia – the worlds only natural androgenic plant extract has been shown in preliminary studies to act like Stanolone in the body and is so potent it requires a testosterone booster to be added with it.
The combination of these ingredients have been proven countless times in the gym by guys who use this in place of or along with prohormones to give the ultimate results.
Attention: These products are not anabolic steroids and all claims are theories. LG Sciences' products will only assist you in reaching your fitness goals. Muscle and weight gain are the result of hard exercise and proper diet, supplements are not a replacement.
SUPPLEMENT FACTS
Serving Size: 1 Tablet
Servings Per Container : 120
Propriety Blend: 250mg
Cissus Quadrangularus (plant)
Hibiscus Rosa-Sinesis (leaves/flower)
Curcuglo Orchioides (root)
Tinospora Cordifolia (whole plant)
% D V
*
*
*
*
Other Ingredients: Microcrystanline Cellulose, Phosphatidylcholine 75%, Hydroxypropyl beta cyclodextrin (HPBCD), Phytosterols, Magnesium Stearate, Silica, FD&C Blue#2, FD&C Red#40, * % Daily Value Not Available.
SUGGESTED USE
Directions: Take 6 tablets per day in divided doses with or without food. Do not exceed 8 tablets per day.