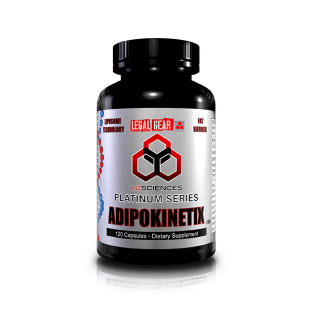 Sale
Adipokinetix® by LG Sciences takes weight loss to a new level with an exact combination of 1R,2S Norfenefrine HCl, Yohimbine HCl, Methylhexanamine Hcl, and Caffeine. 1R,2S Norfenefrine HCl has been shown in studies to be a potent alpha-adrenergic sympathomimetic amine. Sympathomimetic compounds are stimulant compounds which mimic the effects of agonists of the sympathetic nervous system such as the catecholamines, epinephrine (adrenaline), norepinephrine (noradrenaline), dopamine, etc.). These compounds can act through several mechanisms, such as directly activating postsynaptic receptors, blocking breakdown and re-uptake of certain neurotransmitters, or stimulating production and release of catecholamines.
SUPPLEMENT FACTS
Serving Size: 1 Tablet
Servings Per Container : 60
Propriety Blend
1R,2S Norfenefrine Hcl
Methylhexanamine Hcl
Caffeine (anhydrous)
Yohimbine Hcl
Active
25mg
25mg
90mg
1mg
% D V
*
*
*
*
Other Ingredients: Microcrystanline Cellulose, Phosphatidylcholine 75%, Hydroxypropyl beta cyclodextrin (HPBCD), Phytosterols, Magnesium Stearate, Silica, FD&C Blue #2, FD&C Red #40, * % Daily Value Not Available.
Per Container: 60
WARNING: NOT FOR USE BY INDIVIDUALS UNDER THE AGE OF 18 YEARS. DO NOT USE IF YOU ARE PREGNANT OR NURSING. THIS PRODUCT CAN RAISE BLOOD PRESSURE AND INTERFERE WITH OTHER DRUGS YOU MAY BE TAKING. TALK TO YOUR DOCTOR ABOUT THIS PRODUCT.

SALE TO PERSONS 17 YEARS OF AGE OR YOUNGER IS PROHIBITED.

INDIVIDUALS WHO CONSUME CAFFEINE WITH THIS PRODUCT MAY EXPERIENCE SERIOUS ADVERSE HEALTH EFFECTS. INDIVIDUALS WHO ARE SENSITIVE TO THE EFFECTS OF CAFFEINE SHOULD CONSULT A LICENSED HEALTH CARE PROFESSIONAL BEFORE CONSUMING THIS PRODUCT. DO NOT CONSUME SYNEPHRINE OR CAFFEINE FROM OTHER SOURCES, INCLUDING BUT NOT LIMITED
TO, COFFEE, TEA, SODA OR OTHER DIETARY PRODUCTS OR MEDICATIONS CONTAINING CAFFEINE OR PHENYLEPHRINE. DO NOT USE FOR MORE THAN 8 WEEKS. CONSULT WITH YOUR PHYSICIAN PRIOR TO USE IF YOU ARE TAKING MEDICATION, INCLUDING BUT NOT LIMITED TO MAOI INHIBITORS, ASPIRIN, ANTIDEPRESSANTS, NON-STEROIDAL ANTI-INFLAMMATORY DRUGS OR PRODUCTS CONTAINING PHENYLEPHRINE, EPHEDRINE, PSEUDO-EPHEDRINE, OR OTHER STIMULANTS. CONSULT YOUR PHYSICIAN PRIOR TO USE IF YOU HAVE A MEDICAL CONDITION, INCLUDING BUT NOT LIMITED TO, HEART, LIVER, KIDNEY, OR THYROID DISEASE, PSYCHIATRIC OR EPILEPTIC DISORDERS, DIFFICULTY URINATING, DIABETES, HIGH BLOOD PRESSURE, CARDIAC ARRHYTHMIA, RECURRENT HEADACHES, ENLARGED PROSTATE OR GLAUCOMA. DISCONTINUE 2 WEEKS PRIOR TO SURGERY OR IF YOU EXPERIENCE RAPID HEART BEAT, DIZZINESS, SEVERE HEADACHE OR SHORTNESS OF BREATH. IN CASE OF ACCIDENTAL OVERDOSE, SEEK PROFESSIONAL ASSISTANCE OR CONTACT A POISON CONTROL CENTER IMMEDIATELY. AVOID ALCOHOL WHILE TAKING THIS PRODUCT. EXCEEDING RECOMMENDED SERVING MAY CAUSE SERIOUS ADVERSE HEALTH EFFECTS, INCLUDING HEART ATTACK AND STROKE. IMPROPER USE OF THIS PRODUCT MAY BE HAZARDOUS TO A PERSON'S HEALTH.


THE SCIENCE
Adipokinetix® formula also includes Yohimbine HCl and Caffeine, which may cause athletes taking this amazing product to lose weight while simultaneously preserving their lean body mass. Unlike ephedrine, 1R,2S Norfenefrine HCl passes much less through the blood-brain barrier thus greatly reducing the "wired" feeling so often experienced with ephedrine. LG researchers found old research papers from the 1960's using 1R,2S Norfenefrine and its isolation and identification from extracts of juice and leaves of the Meyer Lemon and other citrus species. Identification was by chromatography, optical rotation, ultraviolet absorption curves, fluorescence spectra, and infrared spectroscopy.
What kind of name is Adipokinetix®? Indeed, it's a weird sounding name, but it's a name overflowing with meaning. Before migrating, birds eat large amounts of food in preparation for their long journey so they, in turn, acquire large stores of adipose tissue, or fat. Luckily for the birds, their bodies contain something called the Adipokinetic Hormone. Adipo refers to adipose tissue and kinetic means movement. Thus, this hormone moves or mobilizes fat tissue and preserves proteinaceous tissues during a bird's long migration.
Methylhexanamine Hcl is an incredibly potent organic compound and stimulant that is extracted from geraniums. Methylhexanamine is used as a pre-workout supplement by athletes and bodybuilders, and also has a wide range of Nootropic effects that can improve mental performance. Methylhexanamine is different than other Nootropic compounds due to its intense energy rush and concentration it provides. Unlike much of the negative publicity around Methylhexanamine, in a landmark 2012 study indicated that a dietary supplement containing Methylhexanamine it was shown not to result in a statistically significant increase in resting heart rate or blood pressure. Although all of the mechanisms of action for this supplement are still not fully understood, there is general acceptance by experts and researchers that Methylhexanamine primarily acts to release the powerful neurotransmitter norepinephrine. This is one of the adrenal neurotransmitters that controls our levels of attention, focus, energy, motivation and mental alertness.
The supplement is normally absorbed into the bloodstream through the intestinal tract and is then capable of crossing over the blood-brain barrier. This effectively allows entry into the central nervous system. There is also some evidence to suggest that Methylhexanamine stimulates the release of dopamine, another powerful mood enhancing neurotransmitter. Dopamine is responsible for executive function related to focus and concentration as well as controlling movement and serving as part of our rewards system positive feedback loop. Due to the stimulant effects, this supplement may also be valuable for fat loss. This seems to have a thermogenic effect, raising the metabolism and enabling more efficient use and burning of fat. Studies have shown this supplement, when combined with caffeine and other typical commercial fat burner ingredients, to increase metabolic rate by 35% over a placebo!
The original Adipokinetix® formula produced in the early 2000's consisted of 1R,2S Norephedrine. This ingredient was an ephedrine alkaloid but was superior in many ways. 1R,2S Norephedrine was considered to produce a much cleaner stimulant effect than the herb ephedra or other ephedrine alkaloids. At the time, Adipokinetix® had a cult-like following, and years later many people think it still may be one of the best fat burners to ever exist.
Adipokinetix® is a new weight loss supplement that works in humans very similarly to the way the Adipokinetix Hormone works in birds. It mobilizes and burns fat tissue without sacrificing muscle and organ tissue. Adipokinetix® contains a precise combination of 1R,2S Norfenefrine HCl, Caffeine, Methylhexanamine HCL, and yohimbine HCl.
Norfenefrine, Methylhexanamine and Caffeine work synergistically to drastically increase the body's production of adrenaline and noradrenaline—the adrenergic hormones. These hormones bind to the adrenergic receptors. There are a number of different adrenergic receptors: we are mainly interested in the alpha sub 2, beta sub 2, and beta sub 3 receptors—for they're the ones that mainly affect fat loss and mobilization. Among other things, the beta sub 2 and beta sub 3 receptors are responsible for the mobilization and burning of adipose tissue; they are the receptors that you want to stimulate, for they ultimately affect fat loss in a positive way. Another positive benefit of stimulating the beta sub 2 receptors is an anticatabolic effect on proteinaceous tissues. Thus, you simultaneously lose fat without sacrificing much or any muscle tissue. Adipokinetix® is unique and destined to be the future of weight loss pills. If you want your adipose tissues to fly off of you like a bird during migration, Adipokinetix® is your answer!
Attention: These products are not anabolic steriods and all claims are theories. LG Sciences' products will only assist you in reaching your fitness goals. Muscle and weight gain are the result of hard exercise and proper diet, supplements are not a replacement.
 SUGGESTED USE
 DIRECTIONS: Take 1 Capsule three times daily. Do not exceed 3 Capsules in any 24 hour period. If you feel too much stimulation or energy you may reduce dosage to 2 capsules per day.